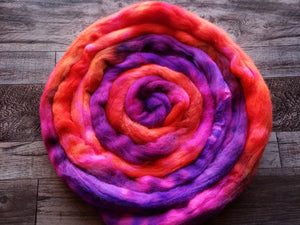 This is a Ready to ship listing for our Soda P.O.P. colorway. 
Rambouillet
100% USA Rambouillet Wool
20-23 Micron Wool
4" Staple Length
4 oz braids
Merino/Bamboo/Silk
50% Merino/ 25% Bamboo/ 25% Tussah Silk
Approx. 19.5 Micron
4 oz braid
Polwarth/Tussah Silk
85%/15%
22-23 Micron Wool
Approx. 3" Staple Length
4 oz braids
Panda Top
SW Merino/Bamboo/ Nylon
60/30/10
Approx 18 micron Wool
3" staple length
4oz braids
Lush MCS Blend
75% SW Merino/ 15% Cashmere/10% Mulberry Silk
Approx. 19 Micron Wool
Approx. 2-3" Length
 I dye all my yarn and fiber with professional quality acid dyes, and pre-wash yarns prior to sale to remove excess dyes. Bold or extremely dark colors (bright reds, deep black/blues) may still have slight bleeding. I recommend using a color catcher sheet with these colors. I try to represent the colors as accurately as possible. Possible variations may happen between dye lots. If you have questions for me before ordering, please feel free to send me a message. All Desert Panda Fiber Arts yarns are dyed in a smoke-free environment.