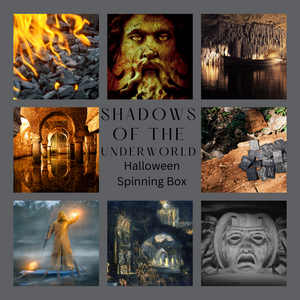 Hello and salutations!
This is a listing for our Halloween countdown spinning box.
These boxes will ship by September 1st.
Each box will contain individually wrapped braids of fiber to count down the 13 days till Halloween.
You will receive 12 days of 2oz mini braids and 1 day of 4oz braid for a total of 28 oz of kettle dyed fiber. 
For this spinning box we will have 1 fiber option available this year. Each box will contain spinning related goodies.
Lunar Eclipse
50% Merino/ 25% Mulberry Silk/ 12.5% Icicle Stellina/ 12.5% Firestar
18.5 Micron
2-3" Staple
 I dye all my yarn and fiber with professional quality acid dyes, and pre-wash yarns prior to sale to remove excess dyes. Bold or extremely dark colors (bright reds, deep black/blues) may still have slight bleeding. I recommend using a color catcher sheet with these colors. I try to represent the colors as accurately as possible. Possible variations may happen between dye lots. If you have questions for me before ordering, please feel free to send me a message. All Desert Panda Fiber Arts yarns are dyed in a smoke-free environment.